Date nights with your significant other are a great way to spend quality time together and strengthen your relationship. And there are plenty of things you can do at home that are as memorable as an expensive night out.
So put away your wallet, put on your pajama pants, and enjoy a cheap date night at home!
1. Games Night
Dig out those board games, a deck of cards, or video games and have a little competitive fun. Challenge each other over meaningful conversations and create memories. Take it up a notch by coming up with an enticing prize for the winner.
2. Game Show Marathon
Similarly, you and your partner can watch your favorite game shows together and play along. Answer just for fun, or keep score to see who prevails.
3. Paint Night
Pop on a classic episode of the Joy of Painting with Bob Ross or find another video tutorial and follow along. In the end, you'll have unique artwork you can hang around the house. Make it a regular date night activity and see how much you develop your artistic skills over time.
4. Cooking Competition
Mimic your favorite cooking competition show like Chopped or Nailed It! at home. You get a delicious treat if your competition is successful; if not, you can at least share a good laugh about whatever it is you ended up creating.
5. Teach Each Other Something
Share your hobbies with each other by teaching your partner something new. It's the perfect way to share your interests and learn more about each other. For example, teach them a few chords or a simple song if you're a musician. Take them golfing. Or if you're into photography, take pictures together.
6. Take an Online Class Together
If there's something you both have been wanting to learn, taking an online class together is a fun way to gain new skills. With the convenience of online courses, it's easy to find a class that will help you both grow.
7. Movie Theme Week
Upgrade your movie night by turning it into a week (or month) long theme. Do a 90s rom-com theme for Valentine's Day or do the opposite and watch some classic slasher films.
8. Build a Fort
This childhood activity isn't just for kids. Building a fort together helps you bond as you create something together and gives you a nice, cozy place to hang out and relax or watch movies.
9. Have a Campfire
Grab the proper fire permits and a bag of marshmallows! A backyard campfire is an excellent way to keep warm and share stories, make s'mores, or watch the night sky.
10. DIY Project
Is there a project around the house that you've been putting off? Why not complete it together and finally knock it off your to-do list? Repaint a room, organize the pantry, or if you're feeling brave, attempt to finally build that IKEA furniture. It may not be romantic, but you'll both feel accomplished and learn how to work together as a team.
11. Hold a Tasting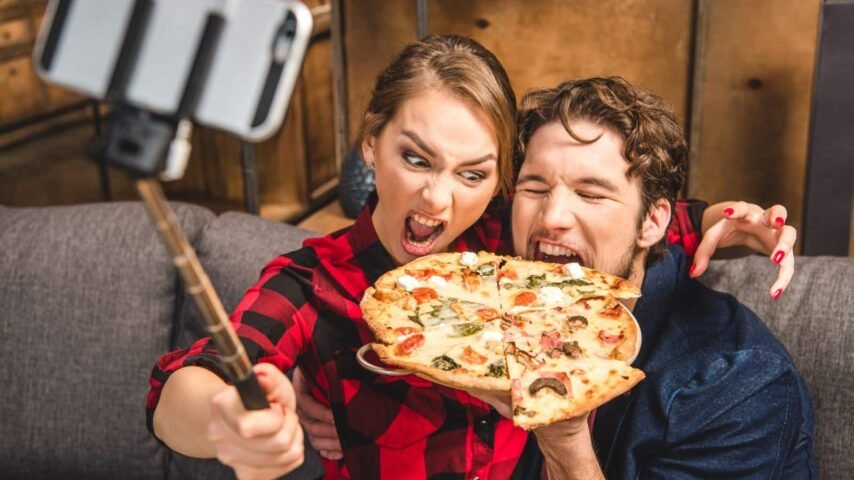 From beer or wine to cheese or chocolate (or really, whatever you want), enjoy an evening trying new delicious foods and drinks together with your own tasting experience. Start by shopping together and choosing the different products you want to try. Keep track of your favorites and add them to your regular grocery list or save them for a treat. It's the perfect excuse to indulge.
12. Plan a Trip
Whether it's a dream "one-day" vacation or a plan for next summer, spend your night at home together planning a trip. Research the local attractions and restaurants to find hidden gems. Browse the different hotels or Airbnbs and pick a fun place to stay.
13. Visit Virtual Museums or Galleries
With an Internet connection, you can virtually visit anywhere. Many museums, art galleries, and landmarks have online tours and activities you can explore together. Learn about the history and new cultures or admire iconic artwork and artifacts from your couch (or comfy fort).
14. Virtual Double Date
Take one of the ideas from above, and have a virtual double date with another couple, no matter where they live. If you're playing games, change up the teams so that you play one round with your partner, and the next against them to keep things interesting.
Memorable At-Home Date Nights on a Budget
These at-home date night ideas allow you to spend quality time with your favorite person without spending much money. From trying new foods and new activities together to twists on classics, you can have a fun, memorable date night at home regardless of your budget.
More Date Night Ideas (for Couples with Kids)
It may feel like you're handcuffed to your kids sometimes, but you and your partner need to set aside a getaway. So, cancel the kid's day out, beg the grandparents for a favor, and make it a married couples night out!
Money Habits of Highly Effective Couples
Being a financially effective couple has nothing to do with being rich. It has to do with managing the money you have and allocating it effectively toward the things you value and want to do in life. It also comes from knowing you and your partner's money stories and money personalities.
Here are 10 habits that can help you become one of those couples that "have it together" when it comes to their money – and tips on how to get there.
The Cost of Success
Jobs with relatively low pay and irregular hours, like bartending or waiting tables, can cause a financial strain on a marriage. From another standpoint, those with jobs that require a lot of travel, like flight attendants or entertainers, may face marital stress because they're forced to spend a lot of time away from home.
Continue reading to find out the 50 Jobs With the Highest Divorce Rates.
Amanda Kay, the founder of My Life, I Guess, provides valuable career advice and support for anyone striving to make a living and, more importantly, make a life. Whether it's navigating job searches, learning new skills, overcoming unemployment, or dealing with debt, My Life, I Guess has been a go-to resource for career guidance and financial stability since 2013. Amanda's expertise and relatable approach have been featured in trusted publications such as MSN, Credit.com, Yahoo! Finance, the Ladders and Fairygodboss.