End Your Job Search &
Start a Career You'll Love!
Let's be real. Job searching can really suck sometimes!
If you find yourself job searching, it either means you're currently unemployed, under-employed, unhappy with your job, or entering the workforce for the first time. All of these can be scary situations to be in. (I've experienced all 4 myself!)
When you do land a job, what's next?
Once you are hired, how do you manage the work politics? Or cope with stress and burn-out? What do you need to do to be successful and advance in your career? How do you know when it's time to change careers altogether?
You deserve to be happy at work!
No matter what stage you're at, navigating your job search and your career path can be complicated and confusing. A job you once loved might no longer align with your interests and values. Your "dream job" might not actually be dreamy after all. Or, as we've recently seen happen on a large global-scale, companies go out of business or change their operations. Lay-offs and job loss can happen any time, even to the best of us. (These are all things I've personally experienced, too!)
Conquer Your Job Search & Your Career!
In addition to the articles I have published about career advice, money management, and surviving unemployment, the Freebie Resource Library is full of the tools you need to help you land a new job – whether it's your first job, a career change, or something in between – as well as information and supports for navigating your career and being happy and successful at work!
Here's What You'll Get When You Sign Up:
Want a Sneak Peak?
Check Out These 3 Freebies Instantly (no sign-up needed!)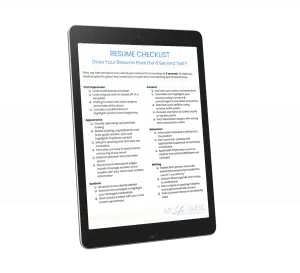 Did you know that recruiters look at your resume for an average of only 6 seconds? Yikes! To help your resume pass this glace test, make sure it meets all of the points included in this checklist.
And check out this article for more details: How to Get Your Resume Past the 6 Second Glance Test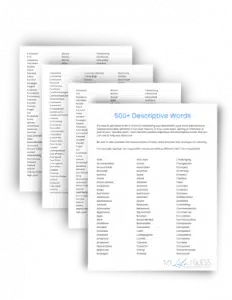 It's easy to get stuck when it comes to describing your personality, your work style, and your interpersonal skills. Whether it's on your resume, in your cover letter, during an interview, or part of your "elevator pitch," here are 500+ positive adjectives and action verbs that you can use to help with your job search.
Do you have a side hustle? Is it on your resume? It should be! When you scrutinize everything that side hustling entails, it quickly becomes clear why you should include it on your resume. It will enhance your candidacy, help you stand out amongst the other applicants, and land an awesome new job!
Ready to Take Your Career Into Your Own Hands?
Don't wait! Enter your details and start NOW!
---
Hi, I'm Amanda & I've spent over a decade job searching.
Have a Question? Need Advice?
I'm happy to help!
In 10 years, I had 11 different jobs. (Often balancing more than one job at a time.) Yet, surprisingly, being unemployed and job searching all that time actually helped me figure out what the right career path is for me.
My job is helping other people find jobs!
That's right! By day, I work at a career center as an Employment Specialist, where I support job seekers by editing resumes and cover letters, creating job-search-related resources, providing information on training and supports, and giving career advice. I also work directly with employers to create job ads, screen candidates, and help with the interview process.
But why limit myself to only helping people from my community when there is a whole community online, full of people from all over the world who could benefit from getting support with finding a job they love?
That's why I've taken my expertise and experience to create a Free Resource Library, full of career-related materials and information that are available to everyone!
---
Know Someone That Would Love This?
Do you know someone that is currently job searching or struggling with their career and would find these Free Resources useful?
Please share it with them by using the links below! And thank you!!
↓ ↓ ↓