Last Updated on August 17, 2020

Tales from a Tenant is a new series featured here on My Life, I Guess… that chronicles the ups and downs of being a tenant. If you are interested in contributing your tenant (or landlord) tales, please contact me.

Today's post is by yours truly. On February 1st, I moved into a 3 bedroom townhouse with my boyfriend ("R") and 2 cats.
A quick Google search tells me that the average American moves 11.7 times in their life. Although I'm not American (I couldn't find Canadian statistics) I'm above average, with my latest, 14th move. Majority of these moves were done as a student when all of my belongings fit into a cargo van, but two of these moves were bigger "across the province" moves – once with my family and once on my own.
The move on my own didn't actually cost me much since everything fit into a 210 cubic foot trailer. Setting up the apartment, however, came with a decent price tag because I needed pretty much everything. When the mice took over and I moved into a different apartment, I kept the costs down by moving majority of my stuff by myself, one car-load at a time. I then paid $125 for two guys with a truck to come and move the furniture.
So when it came to moving this time, a part of me expected it to cost roughly twice this amount – we were combining two apartments into one and were doing it ourselves (with the help of friends). I didn't factor in that my stuff alone now filled a 750 cubic foot truck, 3 cars, and then some. (Guess it's time to take a better look at a this minimalism thing, huh?) and therefore, I wasn't anticipating the actual price tag:
So far, this move has cost us $2,455
But… thankfully there's a but. Let's break this number down, shall we? (Since I know how much you all love pie charts!)
Almost 60% of this expense was more of a "want" than a "need" – brand new living room furniture. I have a loveseat, chair, coffee table and end tables that could have held us over, but we wanted this place to be ours and a home and the living room was the best place to start. I was hesitant at first, but we found a great deal on the whole set and obviously went for it. With the help of the remaining balance of a Canadian Tire gift card (thanks, dad!), we also decided to paint the living room and dining room for only $35 out of pocket. And look at how awesome our place looks already!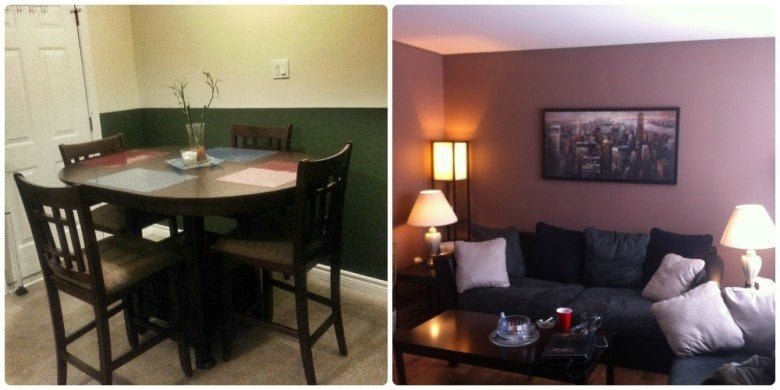 If you eliminate this expense (and I probably should because there is still more furniture and decor to buy in the future), we get a more accurate picture:
This move cost us $1010
But… there's another but. This isn't entirely accurate either. Since we both lived in apartments that included utilities, neither of us had an account for hydro or gas in our names – which meant we had to pay $380 in deposits to open new accounts. However, we're going to get this money back, provided we pay our bills on time. Within a year this money should will be credited back to our account.
Moving actually cost us $630

Moving day itself was about $480. We rented a uHaul van which ended up costing more than we anticipated as we had to make a second trip across the city to my apartment (a.k.a. I have too much stuff!). We had 6 of R's man friends helping us move, so we also fed and beer-ed them. (Technically, there was food and beer left over, but I'm far too lazy to calculate how much was actually consumed on moving day.)
The remaining $150 "admin stuff" expense includes the increase in tenant's insurance, the mail forwarding fee, a bank fee for a certified check, and (admittedly) a wee bit of interest charged on the credit card for carrying a balance. (Crap.)
We're still struggling to make the place feel less like a rental and more like our home, but it's getting there. If you follow me on Pinterest (and you should!), you'll see that I've been pinning home decor and DIY projects like crazy, trying to find exactly what our house needs – and what our wallets will allow.
If you have an interesting tale or important tenant lesson, I'd love to feature it in an upcoming post. Please contact me for more information, and let's make this happen!

Amanda Kay, an Employment Specialist and founder of My Life, I Guess, strives to keep the "person" in personal finance by writing about money, mistakes, and making a living. She focuses on what it's like being in debt, living paycheck to paycheck, and surviving unemployment while also offering advice and support for others in similar situations - including a FREE library of career & job search resources.
This post was proofread by Grammarly. Try it - it's FREE!