Last summer when I returned from my very first trip overseas (to London, England), I realized that the travel-bug had bitten, and immediately began thinking about my next trip – New York City. Why New York? I'm not sure, but I'm assuming it had something to do with Broadway and the relatively close proximity of another of the "world's best cities".
On June 2nd, I arrived in the Big Apple (after a short commute from the Newark airport in New Jersey). I went with my older sister for a week. We managed to do most of the big touristy things (and a few less-touristy places recommended by others) and took in a bunch of shows while we were there.
Manhattan is much, much smaller than it appears on TV and in the movies, and you literally do walk everywhere. Even if you take the subway, you still gotta walk – something I am no longer used to since becoming a lazy-ass who drives everywhere. My legs and feet hurt a lot, but my sister (who lives in Toronto) seemed completely unfazed by all the walking. I wish I hadn't been such a slacker at the gym leading up to the trip, because it would have been nice to spend more time in the museums or Central Park.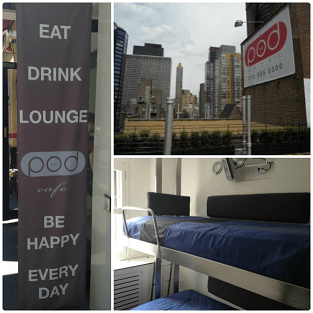 We stayed at The Pod hotel because it was "cheap", the location was fantastic and the reviews were really good.  The room was pretty much what I expected, but I was disappointed about the culture of the place. Online it comes across as having a much more hostel-feel and I was looking forward to mingling with other young travelers from around the world; in reality, it was pretty much all old people or families. We saw the maids more often than anyone (mostly because we had to wait for them to finish cleaning the bathrooms every morning before we could use it – which was annoying). Maybe it has a different dynamic on the weekends later in the summer?
We purchased a NYC Pass – basically a card that you buy that gives you "free admission" into a bunch of touristy places. I was a little leery on the idea at first, but they were having a sale and I found a promo code that saved us even more money, so we went for the 7-day pass. It was definitely worth it! Most of the places we planned on going were included, and it was super convenient to just show the card at places rather than to carry around cash or use our credit cards each time. Plus, it saved us money – we paid $175 CAN each for the passes, and doing some quick math we would have spent about $290 CAN had we not had the card (and could have been even more had we been more 'touristy').
So what did we do while we were there?
The Major Tourist Attractions
The Rockefeller Center was only about 20 minutes from our hotel so we ended up in this area a lot. We took a tour of NBC studios which was pretty neat; it would have been much cooler had they actually been 'in season' filming shows and had celebrities wandering around and such. (The SNL set, for example, was being used to store a whole lot of boxes, and had computers set up for the Olympics coverage. Not exactly glitzy.)  My sister bought a "Community" t-shirt and I got a "Bayside Tigers" (from Saved by the Bell) hoodie from the NBC store which would have made 10 year old me so very proud. We went to The Top of the Rock (no line!) and got some amazing roof-top views of the city (which also, incidentally, made going to the Empire State Building a little redundant).

But we did go to the Empire State building too and I have mixed feelings on it. The line getting in was initially quite small – we skipped several entire waiting ROOMS, but then got side-tracked by the New York Skyride (a sort of I-Max movie tour of the city from the sky, obviously). It was bad. Really bad. I don't recommend it unless you have kids with you. When we got out, the line to get to the observation deck had increased and it was grossly crowded when we finally made it to the top. I think it was so busy because it was dusk and well, the pictures look great at dusk. See?
The Statue of Liberty was closed for renovations, so we didn't bother going to Ellis Island at all. Instead, we took a night boat cruise of the harbor, which took us out near the statue. (Not surprisingly, she was also pretty small.) The views of the city at night from the water were beautiful, but it was hard to take good pictures with our little digital cameras in the dark. Still very cool though. The whole Pier (Pier 17 to be specific) had such character, with some street performers, shops, and ships. I'd hang out there a lot if I lived in NYC.
We were in Times Square several times – it was in the area/on the way back to the hotel from the Broadway District. At certain times it was really busy, but we managed to avoid the crowds for the most part. We went into some of the big stores in the area, like the Disney Store, the Hershey store, the M&M store, and lots of the NYC souvenir shops. During the day there were people dressed up like characters from Sesame Street, Mickey Mouse, and Toy Story. At night there was this really cool street artist who used spray paint (click to see a video I found). I almost bought a painting off him, but ended up with something I like better (which is towards the end of this post).
A piece of advice (that we were given, but didn't listen to): DO NOT EAT IN TIMES SQUARE.  We did one night at TGIFridays (since we don't have those in Canada); it was late, we were hungry and we didn't have many options so we went. Horrible service. Jacked up prices.  Unimpressive food. We left the waiter 3 cent tip only because we didn't have the proper change. Yes, it was that bad.
The Eats
But we did have some really good food while we were there. I'm not really a foodie, so we mostly picked restaurants at random as we were hungry. "Restaurant Row" was a good idea – both places we went there were worthy of blogging about. One place was Southern Hospitality BBQ – their pulled-pork and pulled-bbq-chicken sandwiches were incredible! The other was Uncle Mario's Pizzeria, where we got pizza (duh) and our server kept calling us "Bella" (but in a charming way, not a Twilight-way). We also tried their white sangria which was ok, but didn't really go well with said pizza. We also had yummy (and inexpensive) hot dogs and papaya juice from Gray's Papaya which has appeared in a bunch of movies apparently, and is also blog-worthy. Sadly we did not have any NY cheesecake while we were there, and went to Donut Planet (a Bro-In-Law recommendation) too late in the day to get to try the peanut-butter-and-jelly doughnuts (but still tried a chocolate and a vanilla one). Also worth mentioning was the bar Wicked Willy's near NYU campus that we ducked in for drinks to avoid the rain. They had beer pong tables in the bar!!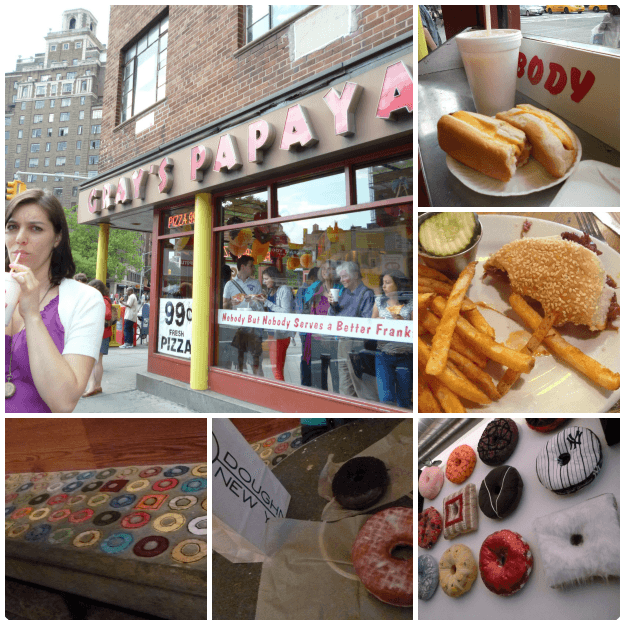 The Shopping
We didn't do much shopping or browsing either. We went by the alleged 'best-kept-shopping-secret' in NYC, (which was packed!) Century 21 department store. It boasts discount designer clothes, but most of the store was just like any other department store, and the "discounted" designer clothes were still ridiculously priced. We waited in line for the washroom longer then we actually did any shopping there. We went into some boutiques, checked out TheMarketNYC and Chelsea Market, and wandered down Fifth Avenue, stopping to peek into Tiffany and Co's window displays, but didn't/couldn't afford to buy anything.
The Exploring
We did two walking tours, which were included in our NYC Pass. The Greenwich Walking Tour was alright – it just felt long, and like they were trying to cram too much in. There's a lot of interesting history in the area, and I wish they had split it up into two different tours – one focusing on the artists/musicians of the area, the other on the history and architecture. We hung out in Washington Square Park for a bit afterwards, which would have been awesome to stay longer but it stated to pour. It also rained during our walking tour of Wall Street, but the tour itself was much better (perhaps just more focused?). I don't know a whole lot about the Financial District so it was nice to have a guide there to explain things.

And of course, we took a petty cab tour of Central Park. This was a bit of a hassle because I had been given the wrong/bad advice. If you are looking for a petty-cab, they are NOT scattered everywhere throughout the park – they are all in the south-end. And we were not able to negotiate the price at all, either. We ended up back-tracking and booking a petty-cab through a company, using our NYC Pass for a discount (it still cost $75 for an hour ride). Our driver was pretty fun though, despite blatantly hitting on my sister. If/when I go back to NYC, I'll spend more time in the park then we did.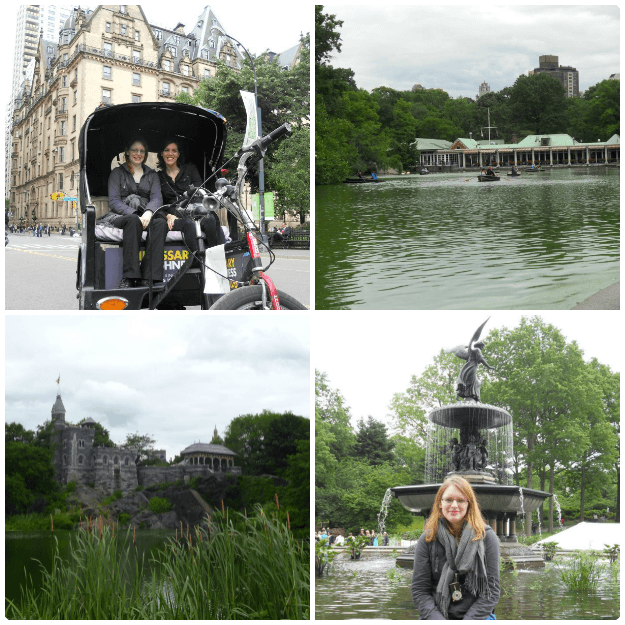 The Historical Attractions
We were on the fence about going to World Trade Center Memorial site, but I'm glad we went. You had to make (free) reservations online, and it seemed like it was going to be an ordeal getting in passed security and whatnot, but it was pretty quick and easy. (Many places had security similar to that at the airport to get into, including the Empire State Building and Top of the Rock.) I'll be honest, I'm not sure what I believe actually happened back on September 11th, 2001, but regardless, those building came down, and people died. The site is still being built, so most of it was not opened to the public yet, but it was neat to see the "two enormous waterfalls and reflecting pools, each about an acre in size, set within the footprints of the original twin towers" and the Survivor Tree.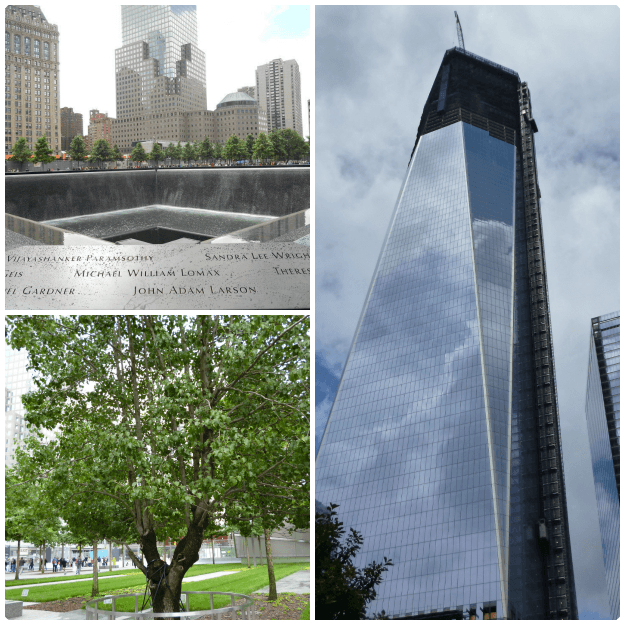 Grand Central Terminal (not station) was pretty awesome too. Included in our pass was an audio tour of the terminal which my sister says was her favorite part (it would have cost a whopping $7 otherwise). We learned that inside the information booth, under the famous clock, is a spiral staircase for the employees to get in and out of the booth.
But the coolest was the Whispering Gallery: "The low ceramic arches, built for the 1913 opening of Grand Central, are designed in such a perfect way that if two people stand at diagonal arches and whisper into a corner, they should be able to hear each other as if they were face to face – not far across the way."
The Museums

I was really looking forward to getting to the museums, but was much less thrilled when we actually got there. I don't know if I was just tired from the trip, or if I've just become museumed-out. We did make it the MET (The Metropolitan Museum of Art), the Solomon R. Guggenheim Museum, and the Museum of Modern Art (MoMA). We didn't spend much time at all inside the MET. I think we spent more time outside of it looking at the paintings of a street artists (eventually, we each bought a painting from him). Half of the Guggenheim was closed for a new exhibit installation, so we made it through their pretty quick (but I LOVED the building design). The MoMA was awesome, but I got a pretty bad headache while in there. I still managed to see most of the famous works: The Starry Night by van Gogh, Water Lilies by Monet, The Persistence of Memory by Dali, several Picasso's, and several Warhol's. Guess I'll have to go back here next time.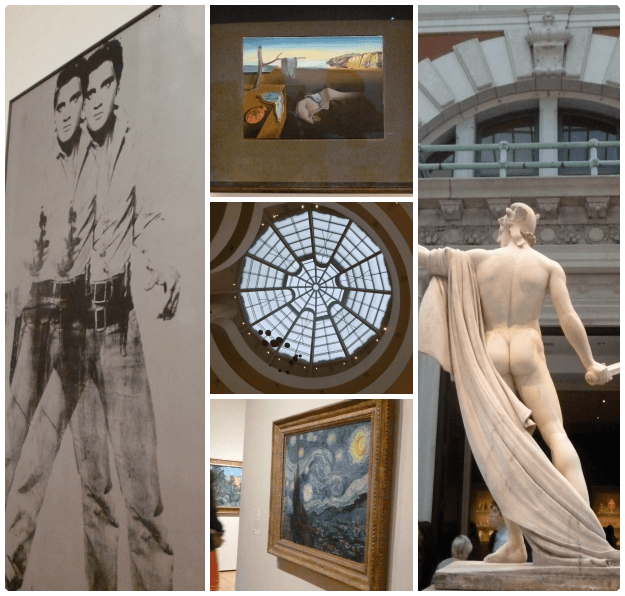 The Borough
One morning we ventured away from Manhattan and headed to Brooklyn on the suggestion of the Bro-In-Law. It was our last full-day there, and I was pretty tired (i.e. grumpy) by this point, and it was much hotter outside then the weather-man said it would be, so I didn't enjoy it as much as I probably would have otherwise. My younger sister strongly suggested a trip to the Superhero Supply Store, stressing that I would love the classroom they had in the back – but I unfortunately didn't get to see the back secret room. We hit the Brooklyn Botanical Gardens, Target (haha), and the Brooklyn Bridge Park for ice cream from the Brooklyn Ice Cream Factory (which was kind of gross) before walking back into Manhattan via the bridge. It was a tad bit crowded, but only took about half hour to cross.
The Theatre
And now the Broadways! We really wanted to see THE LION KING, but the tickets were just too expensive, and we couldn't find any deals. Instead, we 'settled' for PHANTOM OF THE OPERA. My sister had seen it before – 20 years ago when she was in a grade school – and our mom made us listen to a recording of the show on tape back on a family vacation we took as kids. I was a little disappointed by the special effects used for the crashing chandelier, but otherwise it was incredible. Naturally, we ended up sitting next to the douchiest people in the theatre, who really ruined the beginning – the lady was late, the guy was texting her on his phone and had a million shopping bags with him, and when she arrived he used the phone as a flashlight for her, and then she actually pulled out a flashlight to read the program, and started humming along to one of the quieter songs – GRRR!
Anywho, we also went to see HARVEY, as I mentioned in my last blog post. We went on a Tuesday night so that we could attend a pre-show talk with their Education Coordinator.  After the talk, I went over to introduce myself (look at me networking!) and chat about their education program vs. ours before the show started. The script they used was slightly different than the one we used, and their interpretation of certain scenes were quite different/better. I knew that Jim Parsons (Sheldon on the Big Bang Theory) was in it, but was surprised to see Harry Crane from Mad Men (Rich Sommer) in the cast too. My biggest (only) critique of the performance was the character Veta (played by Tony-award nominee Jessica Hecht – better known as Susan on Friends, Ross's ex-wife's partner). I found her to be too over-the-top from the top of the play, so her character had nowhere to go as the story progressed. Not sure if that falls on her or the director though…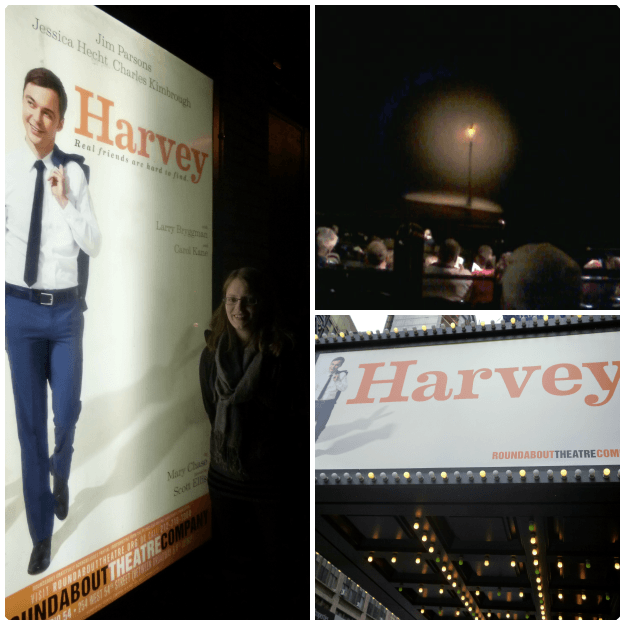 The Cirque

At Radio City Music Hall, we saw the first public performance of Cirque du Soleil: Zarkana – well, for this tour. (They performed this show there last year on another seasonal tour.)  I've seen two other Cirque shows before, but this was the first time where I've seen the performers falter. It was scary but exciting – especially because the act was The Wheel of Death (click for video) – but the performer managed to carry on without falling or interrupting the show. There was also this really cool act where this girl, the Oracle, did sand paintings in which she "summarizes the events of the first half of the show in pictures and gives a brief preview of the story that is about to unfold next". It was kinda neat to find out that because Radio City Music Hall is a national landmark, all the sets and equipment had to be self-supporting because the building cannot be altered in any way. (Also, upon looking this stuff up for this blog, I discovered that there was an entire act scrapped from the performance we saw, as we suspected. We're guessing it was a technical issue.)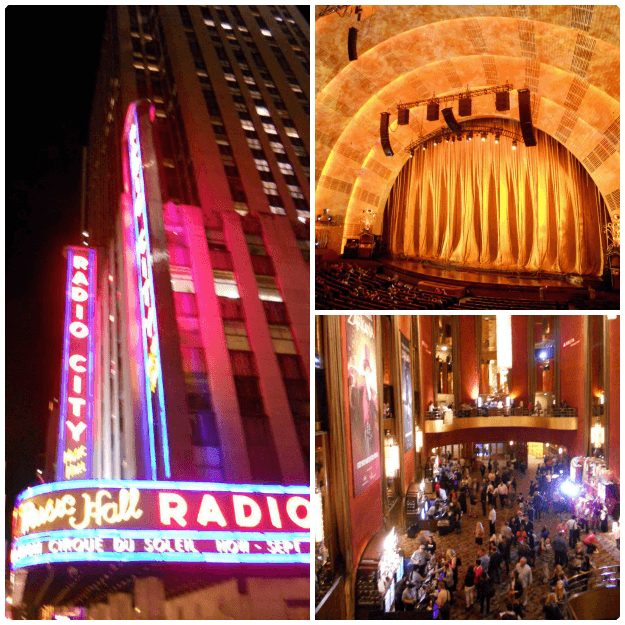 The Comedy

And lastly, we went to the Upright Citizen Brigade and saw an improv show put on by Scott Adsit and John Lutz of 30 Rock (Pete and Lutz). It was really funny and without a doubt worth waiting in line for half hour and the $5 cover charge. As I teach improv, it was awesome to see professionals in action. Their mission ("The Upright Citizens Brigade Theatre is dedicated to fostering both an appreciation and education of the arts through affordable and high quality comedic performances and classes.") is pretty much what I want my life to be.  Plus, this place has a crazy amount of famous, talented alumni including Amy Poehler (Parks & Recreation), Tina Fey (30 Rock), Seth Meyers (SNL),  Zack Galifianakis (The Hangover), Donald Glover (Community) and Jason Sudeikis (SNL) to name a very few.  I wondering if they're hiring?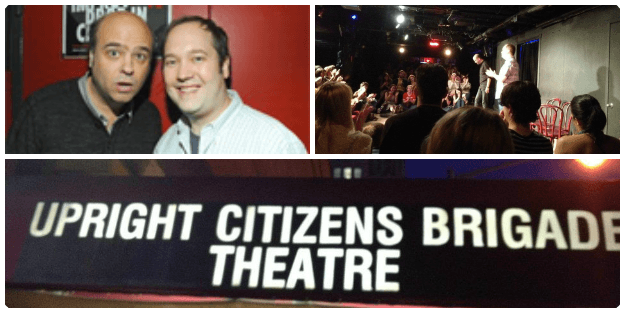 The Street Performers
Honestly, the street performers were my favourite part of the trip. There wasn't any one in particular that stood out as amazing, but the whole concept of street performers just inspires something inside of me. As mentioned above, there was the spray-paint guy in Times Square. At Pier 17 there was a guy that tight-rope walked on rolled up toilet paper. (His trick was pretty cool, but he needed to work on his showmanship in my opinion.) In Washington Square Park, we briefly heard a small band playing with an upright bass before the rain, but returned to see people pushing a grand piano across the space, and to watch this man make and teach little kids how to make these giant bubbles. In the Subway, we saw this group of hip-hop dancers ("Don't worry, we're just black guys. We left our weapons at home!"). And then there were tons of street vendors including a street fair on our first day there. A lot of it was tourist crap for sale but there were actual artists intermittently included as well. As mentioned, there was one artist outside of the MET that really caught my eye. I had a hard time narrowing it down but ultimately picked one (the pink and orange one in the lower left corner) that now needs to be framed and hung on my wall. I should have bought more.

The Cost
I have no idea what the total bill came to, but I'm guessing it was around $2,500. I'm not going to lie, it was a pretty expensive trip – even with the 50% off flights, the cheap-by-NYC-standards accommodations, the NYC Pass, and using every promo code we could find. (I'm sure we could have done it even cheaper if we really wanted to, but if I'm going to see Broadway shows, I want to be able to actually SEE the shows.) Regardless, I would love to go back again one day and spend more time away from the tourist-traps and really explore what the city has to offer. I imagine I'll be back within a few years.
Have you ever been to NYC? What was your favourite part? If you've never been, would you like to go one day?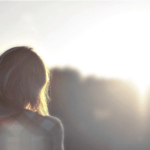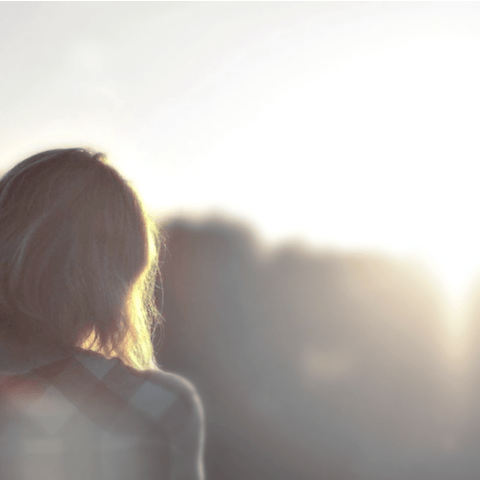 Amanda Kay, an Employment Specialist and founder of My Life, I Guess, strives to keep the "person" in personal finance by writing about money, mistakes, and making a living. She focuses on what it's like being in debt, living paycheck to paycheck, and surviving unemployment while also offering advice and support for others in similar situations - including a FREE library of career & job search resources.
This post was proofread by Grammarly. Try it - it's FREE!