The Insiders is a paid blogging mastermind group made up of other highly motivated bloggers who all want to grow their blogs, too. 
As a member of the group, we collaborate with each other, share opportunities and advice, post on each other's sites to reach new audiences, and get access to SEO and other helpful website tools. The leaders of the group also offer one-on-one coaching, training webinars, consultations, recommendations, and a ton of support. 
I joined in October 2019 and wish I had joined them sooner. It was a real life-changer for me and helped me grow my blog in ways that I couldn't have on my own! 
Blogging On My Own
I have been blogging in some capacity since 2003. This site started in 2011 as a personal blog, but in 2013 I rebranded as "My Life, I Guess" and started writing with the purpose of trying to get strangers to read what I had to say. 
Back then, growing a blog was a lot easier than it is today. For example: 
There was significantly less competition. In 2015, there was approximately 227 million blogs, whereas there were 572 million blogs in 2022. (Source) 
Exchanging links wasn't considered a "link scheme" or a violation of Google's terms which made building backlinks straightforward and simple. (Who remembers blog carnivals?!)
Although SEO existed, if you stuffed your post with keywords, it would rank. 
There was no SnapChat or TikTok but we did use Google Plus.
Pinterest had less than 49 million users, compared to over 400 million users today.
The recommended post length was only 500 words, but is over 2,000 words today.
Websites didn't have to be mobile-friendly or responsive.
Within the first couple of years, I grew my Domain Authority (DA) from 0 to 38, and had an average of more than 8,000 monthly pageviews. I didn't have any sort of strategy, didn't spend any money advertising, and only posted 2-3 times per month. 
Although I was happy with how successful my blog was, my stats plateaued as the blogging world exploded – especially in the personal finance niche. In hindsight, I'm lucky it didn't get much worse! 
Sure enough, in mid-2018, my stats started to decline. Rather than coasting, I knew it was time to take blogging more seriously. 
But the more effort I put in, the worse things got! Despite posting at least once per week and doing much more social media marketing and research, my DA dropped to 29 and I was only getting 3,500 pageviews per month.
Then I learned about the Insider's program. 
In October of 2019, one of the group's founders reached out to me. I'll be perfectly honest, I almost ignored his message, and almost backed out of our initial call, too. 
I hadn't really invested any money into my site, and had been disappointed by the few courses and tools that I did spend money on.
I wasn't making enough money from my site (or my day job) to risk throwing my money away. 
I was also nervous about making the commitment. I had been blogging on my own for so long that I wasn't sure if I was ready to have other people relying on me to do my part. 
But putting together random pieces of advice from people who may or may not have actually known what they were talking about clearly wasn't working. I needed to try something different, and joining a mastermind group was something I had never tried or even considered before.
So I agreed to sign up for their 3 month trial, and am still a very proud Insider, to this day! 
How the Insiders Have Helped My Blog Grow
This group has helped me grow as a person just as much as they have helped me grow as a blogger. I truly mean that!
I have learned so much from them, formed some amazing friendships, and am getting over my imposter syndrome and becoming proud of all I've accomplished. I don't think I'd still be blogging if I hadn't joined the group.
Beyond that, here are a few tangible ways the Insiders have helped my blog grow: 
Media Features 
If you take a look at my media page, do you notice how virtually everything is from 2019 or later? That's thanks to this group. I have been published on MSN multiple times (and now have my own channel!), as well as the Ladders, Wealth of Geeks, Fairygodboss, Credit.com, Yahoo! Finance and more. 
And I mean a lot more! Here's my Muck Rack profile so you can see for yourself.
Email List
Every blogger should have their own email list. It's a more personalized way to connect with your readers, grow your traffic, and prevent losing people in case something changes with your social media profiles (eg: having your Facebook page hacked or Twitter account suspended). 
I knew this – but I still didn't start one until August 2020. Within a year, I went from 0 to 1,330 subscribers with only about 15 minutes of work per week thanks to implementing the strategies and advice I learned from the group. 
Domain Authority
Your domain authority is a metric used to compare your site to your competitors. The higher your score, the more "authority" you have. A DA in the 40s is considered to be average, with the 50s being good, and 60+ being excellent.
Within a year of joining the Insiders and implementing their suggestions, my DA more than doubled, going from 29 to 62. 
P.S. As of July 2023, my DA is at 67.
Tools
I am cheap and don't like to spend money. When it came to my blog, I also didn't know what was worth spending my money on. So I avoided buying things and relied on free versions and free trials. It sort of worked but was very time-consuming. 
Through the group, I gained access to tools that I knew would work and save me time so I could focus on other aspects of blogging. 
For me, this includes a subscription to Moz ($179/month), Text Optimization Tools ($158/month), a few premium plug-ins ($350/year), and more. (New tools are regularly added, so new members may end up with access to different but comparable resources.)
If I were to buy these on my own, I'd be spending more than $360 each month – just for the tools! Thanks to the group, I get them as part of my membership (along with all of the other benefits) for a lower price – which is currently $250/month.
Members of the group have also gotten together to take advantage of group discounts for other resources that aren't already provided. 
Money
Speaking of money, you probably want to make money from your blog, right? 
Before joining, I was lucky if I made $1,000 a year. Most of that income came from questionable and unreliable sources, like poorly written sponsored posts or 3 cents per day from plastering my site with low-paying ads.
In 2022, I made $6,500.
Although I'm still far off from being a 6-figure blogger, that's a 550% increase!
Keep in mind, my blog is a part-time "hobby that makes money" and not a full-time business. 
For honesty and transparency's sake, about half of that income came from virtual assisting jobs that I got thanks to my blog, the skills I've learned from blogging, and the connections made through the group. I'm still working on building up the passive income side, and am now working with better brands and affiliate partners than I was before. 
Tech Support
Troubleshooting technical issues is by far the worst part of running a website, in my opinion. And now that Google is putting more emphasis on page speed, having a fast and functioning site is a must. 
But it's not easy to find someone I can afford who is also reliable and I can trust to hand over my site to. Once again, the Insiders have a solution! We have a go-to "tech guy" who can solve the issues that we can't fix on our own. 
He did some site speed work for me, and my site now scores are all green. And he did not charge me anywhere near the $5,000 quote I got from one web developer…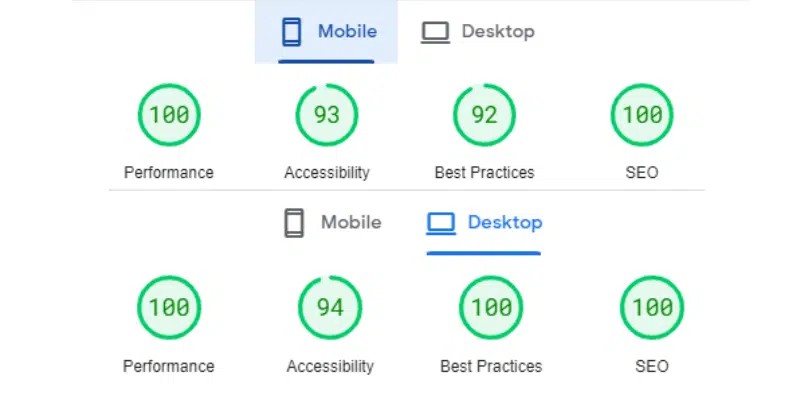 And this isn't everything. As the group grows, so does what's included in your membership. There are benefits that I'm not taking advantage of, as well as a few things that you'll have to join to learn about. 😉
What Does Being an Insider Entail? 
In order to see the best results as an Insider, you need to be willing to participate and put in the work.
If you're already blogging, you know that it takes time to research and write posts, edit and optimize them, promote them, maintain an email list, respond to your audience, fix those tech issues, etc., etc. 
As a member, these tasks become easier. The tools can save you a ton of time, and you have dozens of other bloggers helping you promote your content, too. 
Personally, the amount of time I spend on my blog hasn't really changed. I'm just much more efficient than ever before, so I'm able to get a lot more done.
It's really up to you what you want to participate in. You can get your articles syndicated on major media sites, chat and ask for advice in our Slack group, attend the webinars and training sessions, set up one-on-one coaching and consultations, utilize the tools and plug-ins, promote your posts, promote other Insider's posts, collaborate, network, brainstorm, share opportunities, take advantage of opportunities, give feedback, get feedback, implement the strategies, and share your own tips and tricks. 
Who Should Join Insiders
My honest opinion is that all bloggers should join the Insiders if they're serious about growing. 
Some of our members are new to blogging, while others have been doing it for years. We have members from all sorts of niches including money, career, parenting, weddings, travel, food, and entertainment.  
With the 3 month trial being only $3, you really have nothing to lose by trying it out. You will meet other bloggers, have a guest post published on a site with high DA and lots of traffic (which some sites charge $800 – $15,000 for!), build some backlinks the right way, and learn a lot. There is zero obligation to continue past the 3 month trial. 
However, the longer you are a member, the more you will benefit and see results. 
Unfortunately, growing your blog isn't going to happen overnight. Anyone who tells you it will is lying and likely just trying to make a quick buck off of you by selling you something.
It can take weeks (if not months) for Google to start ranking your posts or recognize your EEAT (Experience, Expertise, Authoritativeness, and Trustworthiness). For example, it took 6 months for my DA to increase from 29 to 44, and then another 6 months for it to reach 62. 
So the sooner you start, the better! And as previously mentioned, being willing to try new things and put in the effort will also help you successfully grow your blog.
How Do I Join the Insiders?
To become an Insider, visit their site and click on "Join the Trial".
I'm also happy to answer any questions you may have, so please feel free to contact me at any time. I can't wait to grow our blogs together!