I've been promising to post about my wedding for a while now, and for those of you that have been patiently waiting, today is your lucky day.
Exactly 6 months ago today, R and I got married!
Our engagement lasted a lot longer than we had planned. R proposed pretty early on in our relationship back in April of 2014, and we had originally talked about getting married in June of 2015. Obviously, that didn't happen. We hadn't anticipated that I wouldn't be rehired after being laid off from my job, or that I'd spend the next 2 years looking for a new job instead of looking for a wedding dress.
Not that I was one of those little girls that daydreamed about her big day, any ways. I've been telling my family since I was a teenager that I was going to elope, and I honestly always thought I would. We had considered eloping or getting married at city hall many times – especially after our original plan fell through.
However, around this time last year, my mother-in-law-to-be started talking about hosting a family reunion in the summer. And we thought, "Hey – why not get married at the same time?"
I mean, it only made sense! If most of R's family was already going to be getting together, why not simply invite mine along too?
One day while I was at work, R found the perfect venue with a simple Google search. We had talked many times about what we wanted, and this place was exactly what we were looking for, and at a price that was better than we could have imagined. So we met with the owner, loved what we saw (even though everything was covered in snow), and booked it that same day.
We sent out our very informal invitations via email to 60 of our close friends and family members, and slowly began planning.
My employment status was still all over the place, which meant setting a budget was hard. So, we sort of didn't set one… Instead, I took the advice I got early on from my sister to heart:
"Figure out what's important to you both, and spend your money on that."
So, we bought and paid for the most important stuff first, and hoped the rest would work out.
Thankfully, it did!
And truthfully, I didn't know what the final budget numbers were until I sat down to finish this post. (Do I have to turn in my personal finance blogger card now or…?)
How We Had the Perfect Wedding for Under $5,000
Without further ado, here's a breakdown of our wedding expenses.
The Venue & Accommodations
Cost: $1, 275
We got married by the lake, in true Northern Ontario fashion. More specifically, this lakefront retreat had a main reception hall with a two-tiered outdoor deck and a ton of green space. We held our ceremony and dinner reception here.
The venue also offered cabin rentals. We figured since all of our out-of-town guests would need accommodations anyway, why not opt for a fully equipped, luxurious house-on-the-lake instead of drab hotel room overlooking an airport? All the cabins had 2 or more bedrooms, which made sharing the costs more affordable than most hotel rooms would be, as well.
For our own accommodations, R and I booked their biggest cabin for 3 nights:
Friday – We used Friday to transport everything out to our venue and to start setting up. It was a great, informal way for our families to start meeting each other. The guys and some of our guests spent the first night celebrating with an unofficial bachelor party, while I headed home with my sisters to get a good night's sleep.
Saturday – On Saturday morning, my sisters and I got our hair and make-up done (more on that below) before heading back out to the venue. Our ceremony was held outside at the main reception hall, with the lake and greenery serving as our backdrop. The bar opened up, and we mingled until dinner, which was served inside. By about 8 pm, we moved the party down to our cabin. (More on that below, too.)
Sunday – Sunday morning, we hosted a thank-you brunch for everyone, and started to say our goodbyes to those that were heading back home. My immediate family stuck around, and we all spent the rest of the day relaxing and unwinding.
The Food
Cost: $1, 527
The owner of the place was very laid-back, and basically let us do our own thing. So we decided to cater it ourselves. (My husband is an excellent cook, after all.)
It was the middle of summer (and incidentally the middle of a heat-wave), so we kept the menu simple and light. We wanted to maintain that backyard BBQ family reunion feel, so we skipped anything formal and opted more for a buffet style meal.
We ordered pulled pork (my favourite!) and beef on a bun from a local butcher shop. It was delicious, easy and extremely budget-friendly. A couple family members and friends contributed side-dishes, and R and his groomsmen did all the other cooking and prepping.
My mother-in-law took care of the wedding cake and cupcakes for us. For our cake toppers we bought Bob and Linda (of Bob's Burgers) Funko pops, which now live on our bookcase.
Since the venue was a bit out of town, we decided to host a morning-after brunch as well. Yes, the morning after our wedding, R got up to cook breakfast for about 55 people, while I cleaned up the empty cups from the night before.
Isn't that how you're supposed to spend your first morning together as a married couple?
We grossly over-estimated the amount of food needed and ended up taking at least half of it back home with us. We actually had to run out and use some of our wedding gift money to buy a freezer just so we had a place to store it all.
The Drinks
Cost: $555
We had decided that having an open bar was too unpredictable with our financial situation, but we didn't want our guests to be paying for drinks all night either. So, we purposely rented the biggest cabin for ourselves to host a wedding after-party.
This was the perfect compromise. Guests could buy a few drinks from the bar during the day and during dinner, and then were welcome to BYOB or drink what we had provided back at our cabin.
The Clothes & Jewelry
Cost: $682
My wedding dress cost $16. I found it at the mall.
It wasn't necessarily my "dream" wedding dress, but I only wore the thing for a couple of hours. (You better believe I changed back into leggings and a tank top as soon as I could!) My mother-in-law did a few alterations to dress it up a little and add a little color.
The rest of my outfit wasn't quite as affordable, though. Between the shoes, the undergarments, jewelry and the few accessories, I spent another $194. My total outfit, therefore cost $210.
My sisters (who were my bridesmaids) paid for their own dresses, which they also found at the mall for only $30 each.
As for the men, R decided to buy his own and his 2 groomsmen outfits as a thank you to them. They wore tuxedo t-shirts, black shorts, gray skate shoes and matching hats. It cost about $130 per person (or $390 total), and are all things that they still wear all the time.
We are not jewelry people, and neither of us wanted anything fancy. So, for our rings, we ordered very simple plain silver bands online. They cost $41 each. (We actually paid extra to get the year engraved on the inside, but honestly, it wasn't worth the extra $20.)
The Hair & Make-Up
Cost: $178
My mother-in-law and her best friend bought me a gift certificate to get my hair and make-up professionally done as my wedding shower gift. So, I decided as my gift to my sisters I'd pay for them to get their hair and make-up done as well. Especially since none of us are really that "girly" and we're pretty clueless about doing this sort of thing ourselves.
While I had a lot of issues with the salon when it came to booking appointments, I was really happy with the results and even happier with the cost. I expected them to jack the prices up like crazy (as most wedding-related things are) but they were more than fair.
The Decorations
Cost: Unknown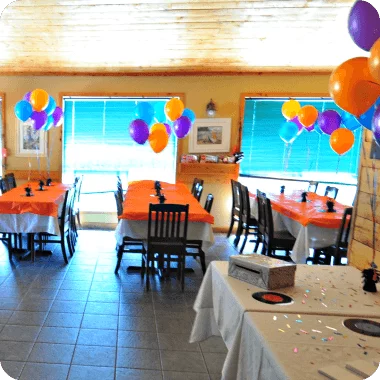 One of the selling features of our venue was all the natural beauty that it already had. Our plans for decorating were simple – we weren't going to decorate at all.
But then my mother-in-law offered to take over decorating for us. She's a very crafty and project-oriented person, so we were happy to have her (and her sister/R's aunt) help.
But I'll be honest, I have no how much money she spent.
Or what we would have done if she hadn't offered.
The Gift Table, Guestbook & Flowers
Cost: $71
We did set up the gift/guest book table ourselves. I made a simple card box, which I was really happy with. And we bought some plain index cards and colored markers for guests to leave notes, stories, and/or advice for us to open up on our one-year anniversary. Together it cost less than $20.
For our guestbook, we didn't want something that would just end up packed away in a box somewhere. So we opted to have our guests sign old records. We picked up a few from the thrift store, printed off our own labels, provided silver and gold sharpies, and bought frames to hang them. All for about $43.
The only flowers in the wedding (that weren't already growing in the ground) were used in my bouquet. I picked them up at the grocery store for $8. They were exactly what I wanted!
The Legal Stuff
Cost: $450
We asked a colleague of R's to be our wedding officiant. He had offered to give us a discount on his fees, but because our venue was out of town, we didn't feel right about it. Instead, we paid him the full $350. He donated it to charity. #winwin
Our marriage license cost $100 and took about half hour to get. So we picked up McDonald's breakfast afterward, on our way home.
The Other Stuff
Cost: $148
The other stuff included the money we spent on toiletry items for the bathrooms, and the outdoor essentials – sunscreen, bug spray, and glow sticks.
Since we didn't hire a photographer, we bought a $102 external hard drive so we could get copies of the photos our guests took.
Our grand total: $4,886
How Did You Pay For This?
I know what you're probably thinking. How could we afford a nearly $5000 wedding when I was un- and under-employed for the last 2 years, and was lucky to make $1000 a month?
Well, I'd be lying if I said we did it all ourselves. We were very fortunate and grateful to have some help from our families. We didn't ask and we certainly didn't expect it, but it was an immense help.
It also turns out that we had pretty good timing.
Back when I was employed at the college, I had a pension. After being laid off, I had to wait 2 years before I could touch this money – which became eligible for release at the end of April. I had the option of transferring it into another pension fund (which I didn't have at the time), or I could take a cash payout.
Cash! Yes – that's exactly what we need!
Although I hadn't started my new job yet, we knew that our finances would soon be looking up, once again. So, I wasn't too worried about spending that money on our wedding instead of going into debt over it.
By figuring out what was important to us, and spending our money on that, we were able to have our perfect wedding for less than $5000.
YOUR TURN: What was (or do you think will be) the most important thing about your wedding?
Amanda Kay, the founder of My Life, I Guess, provides valuable career advice and support for anyone striving to make a living and, more importantly, make a life. Whether it's navigating job searches, learning new skills, overcoming unemployment, or dealing with debt, My Life, I Guess has been a go-to resource for career guidance and financial stability since 2013. Amanda's expertise and relatable approach have been featured in trusted publications such as MSN, Credit.com, Yahoo! Finance, the Ladders and Fairygodboss.