This post contains affiliate links. Please read my
disclosure
for details.
The internet is full of information of every kind. On the one hand, this is a good thing – but it can quickly become overwhelming. Sometimes, you don't know which sources to trust. When it comes to financial industry news and stock market developments, it becomes especially important that you get accurate, up to date information.
If you like to keep an eye on the markets and economy, here are some of the best financial industry news sources you need to check out regularly.
Financial Industry News to Subscribe To
Finimize is one of the easiest ways to stay in the financial industry loop.
Their goal is to help financially empower everyone (young professionals and millennials in particular) by specializing in providing "bite-sized" financial information and education without any of the unnecessary jargon.
Simply sign-up and become one of over 600,000 subscribers who receives a short, daily email containing the top financial news.

The Morning Brew is another daily email that covers the latest news from Wall Street to Silicon Valley with a quick 5-minute read.
It provides the latest stock market information and news events, but they aim to keep their readers informed and entertained. The tone and writing style of the Morning Brew is more conversational and is full of wit and humor.
They also include a "what else is brewing" section in each email that includes other interesting tidbits and news articles. These are great for those days where you have more than 5 minutes.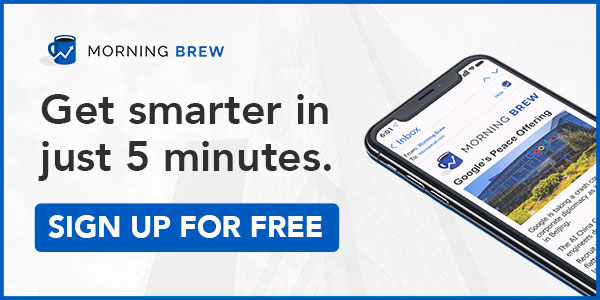 Money Morning
If you want to know the performance of the Dow today, look no further than Money Morning. By signing up for free membership, you get access to an analysis of the day's performance along with content on cryptocurrencies, IPOs, and even the marijuana industry.
Money Morning is ideal for investors, potential investors and financial industry professionals who want to get lots of information in one location.
CNBC Finance
CNBC is a recognized world leader in business news that reach 410 million homes worldwide. They provide real-time market coverage, stock quotes and the latest global business and investing news.
One handy feature of their free newsletter is that you can pick what you want to subscribe to. They have over a dozen categories to choose from including breaking news, top market stories, big data investing and weekly money management advice.
There is also a paid PRO subscription option where you can access more in-depth information.
Financial Industry News Sites to Bookmark
CNN Markets
CNN is one of the world's biggest news networks and while politics may dominate its coverage, its Markets page is closely followed by those in the industry.
It offers a pretty straightforward look at financial news and events, trending stocks and commodities changes. There are also dedicated pages for each of these areas as well as frequent updates on several financial topics.
If you want to get a quick look at the financial industry at the start or end of your day, make sure you include CNN Markets.
Kiplinger
Kiplinger goes beyond just giving you financial news. It tells you how current events can impact your financial situation and gives you tips on how to navigate the ever-changing environment.
You'll find advice on personal finance and investing alongside special reports and podcasts. If you want practical tips for spending and investing instead of dry numbers, add this site to your rotation.
MarketWatch
MarketWatch is a Wall Street Journal Publication for those who want in-depth information about the stock market. It lets you monitor key exchanges, read the latest news and check stock prices quite easily.
If you sign up for an account, you can customize the homepage to suit your particular interests and add specific stocks to your watch list.
Many of the topics are suited for hardcore investors, but there's a lot to read for those who are new and those whose interests are more general.
---
Related Article: The Best Online Brokers to Invest With
---
Bloomberg Markets
Bloomberg is another solid news source and their Markets page is chock-full of information in an easy to read format. You can quickly get a stocks overview at the top of the home page along with futures, commodities, and markets. Below that, you'll find lots of expert analysis on the markets with frequent updates, graphs, and videos.
For those who prefer to listen to their financial news and reports, there's a podcast section as well. This means virtually any type of consumer can get the information they need in a format they like.
The Financial Post – Canada
If you are a fellow Canadian, do business with Canada, or are simply interested in what's going on with our national economy, The Financial Post has you covered.
Founded in 1907, it's been one of Canada's most trusted financial news sources for over 100 years. Their mission is to deliver "all the news and analysis you need to operate in today's competitive business environment" by focusing on the facts.
You can subscribe (for a fee) to receive the newspaper online or to your door, if you prefer to get your news that way.
This Is Money – U.K.
Voted as the UK's best financial website, This Is Money is the "brightest, most entertaining and intelligent money website in the UK". Bringing you all the latest money news, tips and advice, they cover everything including mortgage rates, housing costs, consumer news and investing ideas.
They also have an app if you prefer to read their free content while you're on the go.
With economic news attracting attention from virtually everyone these days, these sites make it easy to stay on top of what is happening. Whether you're an industry professional looking for in-depth research or a millennial trying to figure out what economic changes mean for interest rates, you can get the latest financial industry news you need with these sources.
---
Photo by Kaboompics .com from Pexels

Amanda Kay, an Employment Specialist and founder of My Life, I Guess, strives to keep the "person" in personal finance by writing about money, mistakes, and making a living. She focuses on what it's like being in debt, living paycheck to paycheck, and surviving unemployment while also offering advice and support for others in similar situations - including a FREE library of career & job search resources.