Last Updated on August 17, 2020
A lot has changed in my life over the last few months. All for the better!
I don't normally like change, but being stuck waiting for something to change is worse. But "stuck" is exactly where I've been. Stuck waiting for something to change.
And all at once, it did!
I Got Married!
On July 23rd, in front of about 55 of our closest friends and family members, R and I said our "I Do's" and became husband and wife!
Our wedding was very casual and laid-back, and everything turned out perfectly. I couldn't have asked for a better day. (And that's saying a lot, considering I always thought I would just elope.)
R found the perfect venue located just outside the city. We had our ceremony and dinner at the main lodge, and rented an $800,000 lakefront cabin for the reception and for the rest of the weekend.
The weather cooperated for the most part, and instead of rain we were right in the middle of a heat wave (which is extremely rare for Northern Ontario, and most places do not have air conditioning. Ugh.). The scenic views and blue skies made for the perfect backdrop.
Newlywed life is a lot like our life was before getting married. Except now we talk about things other than wedding planning, and I can use the word "husband" for real.
We were so lucky to have everything turn out, and I wouldn't have changed a thing about it!
I'll of course be writing a full post about our wedding, which will include pictures and all those budget details I know you're curious about. And it will explain how we managed to pay for a wedding when I've basically been unemployed for 2 years. So keep your eyes opened for that! Here's a sneak peak: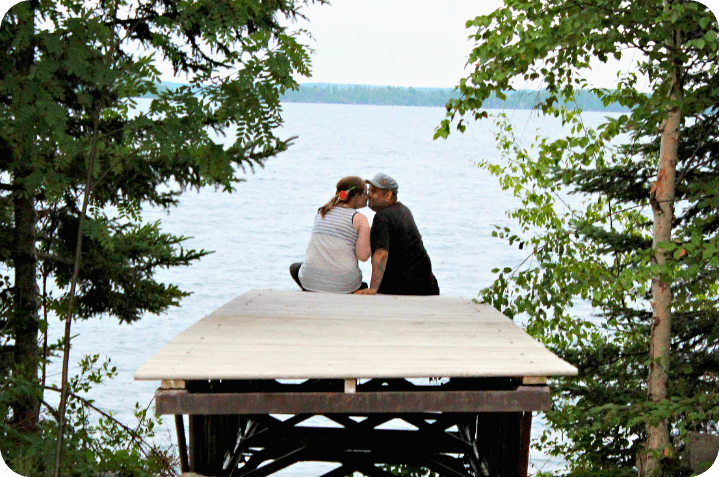 I Started a New Job!
After accepting a job offer back in May, and months of background checks, I finally started my new job about 2 weeks ago!
I spent the first week and a half in training, which went really well. But then I had a really bad first day alone. Because I got trapped in the elevator. For over an hour. And I'm claustrophobic. I managed to avoid any panic attacks, and even joked with the other staff about it being some sort of hazing thing, but I avoided the elevator for the rest of the day. And proceed with caution every other time.
I'm so glad to be back to working full time, but it's taking some getting used to. The organization I work with operates 24 hours a day so there's a lot of staff, and always a lot going on. I have a regular Monday to Friday, 9 to 5 schedule, so I never quite know what to expect when I arrive each morning.
I'm also not used to working somewhere where I'm regularly exposed to a lot of confidential information. It's weird to not be able to talk about your job to other people! But I think that'll actually be good for me, as it will help me leave work at work.
I like that I'm once again in charge of my own department. I can more or less set up my own routine, work at my own pace, and set-up my own systems, once I get a better hang of it. Although there have been a few hiccups, I've already learned a lot, and I think (hope?) that I'm making a great first impression.
I Quit My (Old) Job!
As much as I loved nannying for the family I've been working with over the last year, I couldn't do both. I knew that accepting any full-time position would mean having to quit nannying.
I told the family right away, and thankfully they kept giving me hours while we waited for my new job to start. But my last day there was still really hard. I've watched their 2.5 year old little girl grow so much! I formed such a strong bond with her and the whole family, I didn't want to say goodbye.
Childcare, however, was never something I wanted to do as a career. It worked well as my "Plan B" to help tide things over while trying to find a new job, but it was time for me to move on. And there's no reason this relationship has to end, it'll just look differently now.
So far, most of our life together has been paired with financial difficulties for R and I. We've managed to get by, but now we'll be able to actually enjoy our money – as a married couple – for the first time. (Even if for me enjoying it means paying off debt and increasing our savings!) We'll be able to afford our wants again, and not just our needs.
I cannot wait for these changes to come!
YOUR TURN: What has changed for you lately?
Amanda Kay, an Employment Specialist and founder of My Life, I Guess, strives to keep the "person" in personal finance by writing about money, mistakes, and making a living. She focuses on what it's like being in debt, living paycheck to paycheck, and surviving unemployment while also offering advice and support for others in similar situations - including a FREE library of career & job search resources.
This post was proofread by Grammarly. Try it - it's FREE!