Last Updated on August 17, 2020
If you're an avid blog reader, you've probably been bombarded with year in review posts over the last few weeks. Well, here's one more for you!
To be honest, I wasn't going to do a recap post until I went back and re-read the ones I have shared in the past. (Check them out, if you were interested: 2016, 2015, 2013.) I found it valuable to have these snapshots of my past because they help show me how far I've come. (Which was one of my biggest takeaways from the posts I read this past year.)
This blog is called My Life, I Guess… after all, so I'm going to take the time to write about just that. Even if it's primarily just for me.
Blog Stuff
As I've mentioned in various posts, my big goal for 2017 was to be a better blogger. To me, that meant writing a lot more and publishing at least once a week. I started off strong. For the 3 months, I managed to reach this goal. But then in April and May, I only published new posts twice each month. Then only one in June. And then nothing in July… Between August and December, I only published 3 of my own posts.
So we're trying it again this year! I anticipate the results will be similar – start off strong, but taper off by Spring – but hey, as long as I keep trying, I'm happy.
On the backend of things, I finally settled on a tag line,  updated my logo, and changed all my permalinks.
I also shared the financial side of My Life, I Guess and let you all know exactly how much money I've made from this website since it launched in April 2013.
Family Stuff
Within the span of about a week, my sister had a baby boy (the first in my immediate family!) and my grandma died. So, that was a lot to deal with.
We knew that my grandma wasn't doing well, so earlier in the year my dad and my non-pregnant sister came up north to visit. I made the 300 km drive with my sister to my hometown (where my grandma still lived) and then made this drive again for the funeral. It was great to see so many family members and family friends at the funeral – many of whom I haven't seen in years and don't know when I'll see again. It was also the first time my husband met majority of my extended family and got to see my hometown.
I was able to meet my nephew twice, thanks to having to travel to Toronto for business purposes. I couldn't afford these trips on my own, so I was grateful that it worked out this way. He's nearly 7 months old now and I cannot wait to see him again! Hopefully soon.
In September, my dad called me sort of out of the blue to tell me that he and his long-time girlfriend had eloped! I had suspected they might, but it was still a nice surprise! I guess that means I have step-brothers now, too?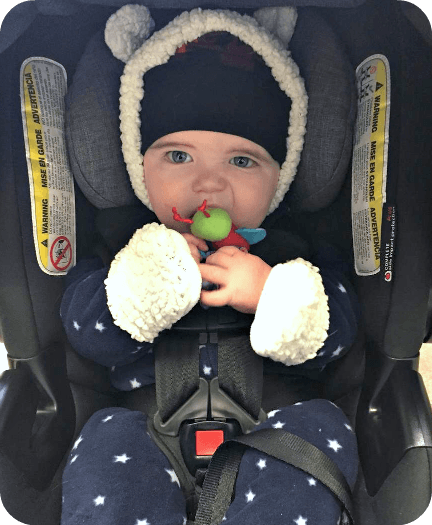 Work Stuff
In 2017, I had 3 (sort of 4) different jobs. Ugh – just saying that makes me feel exhausted all over again.
I had accepted an internal promotion in October of 2016, but I didn't start this new position until March. I liked my job but it was very different than anything I had done before, and I thought that moving back into office administration was right move to make. Boy was I wrong!
Training was lacking, pressure was high, and small mistakes had severe consequences. I had to constantly remind myself that having this job was a lot better than having no job again. But it was clear that it was not the right fit for me.
My manager agreed and asked me to cover a temporary leave for someone in the finance department in November. Obviously, I jumped at the opportunity. I am a fan of finance after all and wanted more experience in it.
But this too turned out to be the wrong move. One that nearly killed me. (Yes, for real.)

It turned out to be a false alarm, but I didn't know that at first. I still don't know exactly what happened. I just knew I had to get away from being put in that situation again.
And I guess the world agreed with me! Less than a month after this traumatic incident, I started (yet another) new job! I'll be sharing more about this next week, but I am now working on campus once again in an administrative and financial role. It's been about 6 weeks since I started, and this was absolutely the right move to make!
Money Stuff
We are still in debt. We still struggle to pay our bills. We still live paycheque to paycheque.
But the good news is, we didn't accumulate any more debt this year. That's the first time since my husband and I moved in together than I can say that. Uncoincidentally, it's also the first time that we both worked full-time for the full year.
I didn't make any real strides in our debt repayment, despite my efforts. We met with 2 banks to see about getting a consolidation loan or lower interest rates to help us get ahead, but neither panned out. We're still financially stuck in the middle and that doesn't look like that's going to change anytime soon.
I did open an RRSP (in addition to both of us having pensions), decided to invest a little in myself, and my credit score jumped a whole 3 points since December of 2016. We still have a long way to go with our finances, but at least we're heading in the right direction!
Overall, 2017 was an alright year for me. 2016 was great! 2015 was not. So I'm alright with 2017 being just alright. And hope that I can at least say the same about 2018.
YOUR TURN: What was the best part of 2017 for you? Share in the comments below!
Amanda Kay, an Employment Specialist and founder of My Life, I Guess, strives to keep the "person" in personal finance by writing about money, mistakes, and making a living. She focuses on what it's like being in debt, living paycheck to paycheck, and surviving unemployment while also offering advice and support for others in similar situations - including a FREE library of career & job search resources.
This post was proofread by Grammarly. Try it - it's FREE!